As I took the first sip of coffee, I saw the teenage boy in my neighborhood helping his mom with the grocery shopping bags; I went back to my old childhood memories. The days in South California were beautiful. What lovely time we had spent together!
As Mother's Day is approaching, I am thinking of planning something different this time. Walking back the memory lane, the memories of this day flashes right in front of my eyes. Liz and I used to buy mom the best we could with all our savings of the pocket money. It was an apt time of the year to showcase our art and craft skill as well, staying up all night we indulged in making beautiful cards with fine calligraphy. On this day we always kept her away from the household chores making her feel pampered all throughout the day.
Ever since dad has partially lost his eyesight, mom is unable to go anywhere leaving dad alone. I thought of celebrating this day with the entire family again in South California. I revealed it to Liz. I rang her up and she too was eager for the plan.  "Bob, I was thinking if we could set up the old wooden table in the garden and have a family brunch like you guys used to have before," said Aaliyah. This is what I love about Aaliyah; she knows the right ways to show affection. "Yes my love, it would be such a nice way to celebrate," I replied.
My mom never compromised on family time. Mom always said, "Time is the ideal thing which we can give someone. Quality times make room for lifelong beautiful memories." Every year I send mom cards and flowers but this year it is time to accomplish the lifetime lesson preached by her. Given how busy we all keep here, she will be overwhelmed to have us all there completely off our schedule just to spend some gala time with her.
Liz, Rachael, Aaliyah and I are planning to surprise them with this sudden visit. Like every year she will be expecting the gifts and flowers but this time she will have us all there when the doorbell rings instead of the deliveryman. While Liz and Aaliyah will be taking care of mom's favorite delicacies like fried crisp taquitos, lobster rolls, pancakes, apple pie and caramel custard along with some good wine. I am going to take her out for a walk to the nearby park and relive the old childhood memories. "Bob, I am taking my camera to capture the beautiful moments," said Aaliyah to which I replied, "And, I will pose for the lovely clicks with the entire family." We are going to gift mom a lifetime memory; something which she always desires.
A mother is an epitome of selflessness! Buying things to gift her is a nice gesture but anyone who has money can do that. Then how to stand out? When we devote quality time to the person we love it creates magic. Coupled with love and care there is no substitute for it. Pampering the person we love will always make them feel valued. Whether we live with our mom or away, spending quality time, listening to her, going with her to the places that we once accompanied her to or just helping her bake the cake are some of the best ways in which we can make it special for her. After all, at the end of the day it's not about how many gifts we acquire rather it's about how many beautiful memories we make. Shower your mother with your time and love this Mother's Day!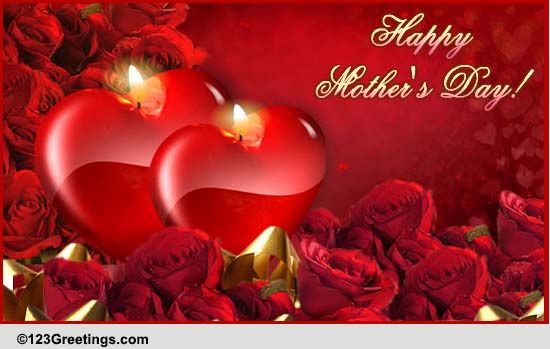 Online Romance Week
May 12-18, 2019