St. Patrick's Day is here, we know besides being a day celebrating the revered patron saint of Ireland it has now become a perfect time to groove away with folks and friends wearing green jackets adorned with a shamrock, and wish for our pot of gold delivered by the lucky Leprechaun.
I am spending time with Fred and the gang at the Bar 54 near Times Square. I love the chatter and banter that follows after many a beer is consumed. It sets the mood for the grooves and jigs of the St. Patrick's Day celebrations.
Light conversations flow in the group as we sip our drinks and listen to the Irish beats of the song, "The Irish Rover", it makes many of my Irish-American friends nostalgic as they give voice to the chorus, the words touch a cord in me somewhere. It's about a magnificent sailing ship which meets an unfortunate end. Some people end up in tears and it's so awesome to just let the snow within, melt. Songs have that magic in them.
The island of Ireland has seen a lot of suffering, invasions, famine and so on but it has given us gifts of saints and scholars and the emerald isle is known for this. St. Patrick who came to Ireland as a prisoner later became the patron saint spreading Christianity in Ireland. The 17th of March is marked as the National Day of Ireland and is dedicated to St. Patrick who is said to have died on this day. St. Patrick's Day parades are held in most of the towns in Ireland and rest of the world as owing to famine and other political unrest Irish people have spread their roots to many countries.
The US alone has around twenty-two million Americans who say their primary ancestry is Irish according to the Census's American Community Survey. Well, on St. Patrick's Day everyone is Irish and we all enjoy the rich Irish traditional food, corned beef with cabbage and roasted potatoes.
Happy St. Patrick's Day!
March 17, 2016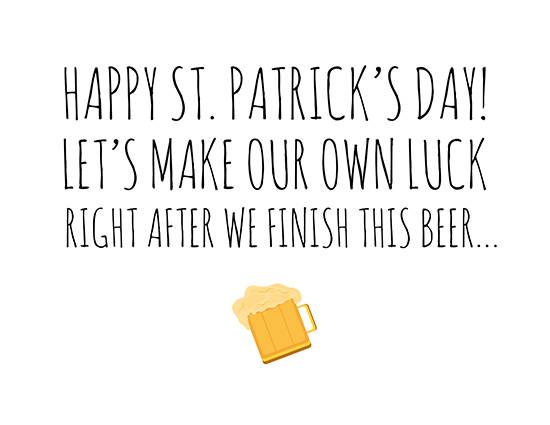 Irish Blessings!
March 17, 2016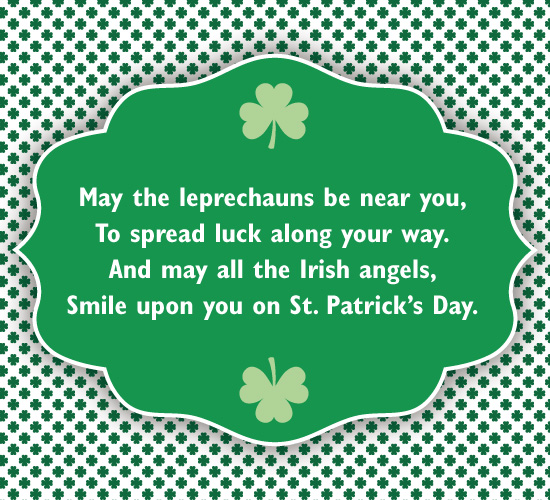 Luck O' the Irish,
March 17, 2016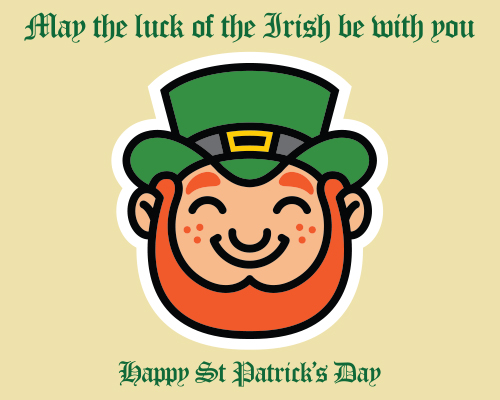 If you are perplexed by how can you make your life less mundane and keep the excitement alive, don't just course through the ups and downs of life but give yourself little free-time to celebrate with folks and enjoy the days marked in history and break free from the set pattern.
Like the Irish Poet William Butler Yeats quotes in his famous poem, "Lake Isle of Innisfree," "I will arise and go now, and go to Innisfree, And a small cabin build there, of clay and wattles made; Nine bean rows will I have there, a hive for the honey-bee, And live alone in the bee-loud glade. And I shall have some peace there; for peace comes dropping slow…"
Wisdom comes from the moments of leisure and reflections that you give yourself; sometimes perfection of life is not having perfection at all. So step down from the escalator and sit on a quiet bench enjoy the indigo glow of the sky, invite a friend or two to spend the moment of nothingness with you and celebrate the day of abundance which is not necessarily monetary in nature.
The festival is full of signs and symbolism. Green is the color of growth and prosperity. Leprechaun brings a message to take life easy and have fun with it. Pot of Gold is the "good fortune" you crave for on the outside but is within your reach if you just believe. Shamrock stands for trinity indicating the power you have to attract all that is good. So friends enjoy the day to the fullest!
Cheers! Happy St. Patrick's Day!