Walking down the streets of Manhattan, Donna, Emily and I were busy talking about the recent mischiefs of Kong.  We were heading for the paint and sip session at our favorite cafe.
Friendship Day is around the corner so the theme of the session was 'Friends for Life'. Emily was a little taken back when she heard the topic. Her eyes lost its shine, her face turned gloomy. Leaving her painting brush aside, she took her phone out. While we all started, she was busy swiping her screen.
Ten minutes passed, she was still staring at the screen. 'Emi, don't want to paint? We've all started," I said. She looked at me. "I had an ugly fight with my best friend Olivia. We are not talking anymore. I am missing her," she answered. I took her to the lounge. "What happened? Why did you both have this fight in the first place?" I asked.
She told me the reason. Olivia has started dating a guy recently. Emily doesn't approve of the guy. She feels the guy is not right for her. She doesn't want her 'bestie' to get hurt. "I tried to make her understand but she refused to discern. We had a bitter exchange of words shooting personal attacks and now we are not talking anymore," she cried.
"There you go wrong. I understand your concern but this isn't the way you deal with such a situation. Respect her feelings for him," I said. We cannot expect people to act according to our advice. "You have to wait and see how things unfold for her," I emphasized.
Everyone has to go through their own set of learning and experiences. If Olivia and her partner are good together then it's great. If not, then it would be a lesson for her paving the way for a better life. "You have to know the distinguishing line between being protective and overprotective. The latter can sometimes get unbearable for the other person. I am sure she too felt bad with this behavior of yours," I expressed.
"I agree. Now I feel that I should have given her space and time before drawing conclusions. Nothing matters to me more than her happiness," she said. She realized that she was ruining the comfort zone between each other. She immediately called Olivia to settle the fight. When she finished the call, she came up to me and said, "I'm meeting her today. Thank you so much, Uncle Bob!" "Now shall we go and paint?" I asked. "Yes! Let's go back!" she expressed. Both of us got back to painting again.
It is rightly said that friends are the family we choose for ourselves. Good or bad, silly or rational, easy or difficult no matter what, they are irreplaceable. Showing them the reality is our responsibility but acting on it is their choice. Friendship requires you to be with the person through thick and thin. That's the essence of it. Never let any trifle issue to come in the way of your friendship.
Share your Friendship Day stories with us!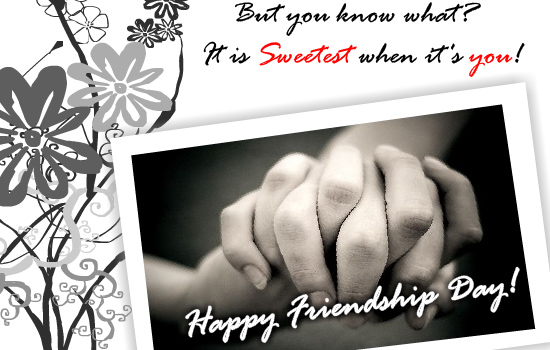 Girlfriend's Day
August 01, 2019