I was overjoyed when the readers opened up their hearts and shared the lovely summer poems, haikus and free falling verses for a summer contest run by 123greetings team last week. Cheers to the winners of the contests, Elizabeth Kuriakose, Allennita Cooks and Robert Newstrand for the wonderfully crafted haikus which stir up the deep-seated feelings in the hearts.
Dancing my way through the summer, basking in the sun on the beach with girlfriend or diving in the delicious cheesecake made by dear friend Megan, I am cruising through life and am glad to just be.
I always believe in doing away with the past after I have squeezed out the lessons from all the challenges. I believe in moving on and making my today better than my yesterday. In the journey of life, I've realized 3 most important things that support in making each new day a better one.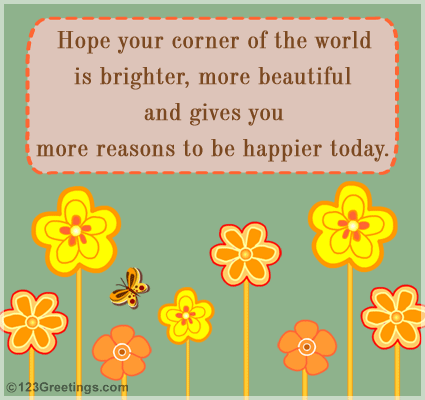 Live a little more each day!
Forgive yourself and others for not fitting in, for not achieving, for not fulfilling expectations, for being mean, for not being sold on what you believed in, for all the failures and setbacks. Let's start fresh and let go of blames, claims and conditions.
Be thankful for all that worked for you and all that didn't because it left a good lesson to improve the days to come, making you wiser and more prepared. I love the song, 3 things, by Jason Mraz.  Start your day on such feel-good-notes, full of hope and life. The words of the song play in my mind and I smile.
Believe in yourself, in grace and in life. Don't begin with doubts, know that everything in the matrix of your life is for a reason and once the purpose is resolved, it will pass. So make it simple, just keep the faith alive no matter what.
Practice the pause. When in doubt, pause. When angry, pause. When tired, pause. When stressed, pause. And whenever you pause, pray! ~Unknown
Girlfriend's Day!
August 1, 2016