The weather is ruthlessly cold and I sat their recalling the time I spent baking a chocolate cake with my dear friend Adrian to beat the winter blues a few years back. It was a surprise planned for the love of my life Aaliyah and May, Adrian's better-half. The day was full of joy and I can't forget the mess we'd made of the kitchen when the girls got back home and in the end we all laughed and relished the sumptuous chocolate chunks.
I picked up the phone and called up Adrian to check on him. I was worried to hear his voice which sounded as barren as the winter rain. After nudging him several times he confessed that he missed May. The wintertime is difficult without her being around. May was visiting her native place to celebrate Chinese New Year.
The "Winter Blues" or SAD (Seasonal Affective Disorder), affects half a million people in America during the winter months causing mood disorders and melancholy. I thought of uplifting the mood of my friend so I called him over for a game of poker and some beer. He sighed heavily, "Sure! I will be there."
I invited Fred, Donna and Megan who volunteered to bring in some home baked dark chocolate cake with her. I am excited to meet them all and celebrate the Chinese New Year. Aaliyah has timed the video call with May to make it even more special for Adrian.
The theme for the get-together is red, which is the color of the spring festival. May is sending a red tang suit and Chinese Classic jackets for us. I am a fan of Chinese martial arts and have often seen this type of clothing in Jackie Chan movies.
After a lot of thinking, Aaliyah has prepared the most amazing menu for the reunion dinner. From spring rolls, dumplings, lobster rolls, steamed chicken and fish, long noodles to nian gao, rice cakes she has planned it all to perfection.
She informed me that many vegetables and meats have symbolic meaning during Chinese New Year. While eggs stand for big and healthy family, lobster represents endless money rolling in, fish is also for surplus, seaweed symbolizes wealth and fortune, lotus seeds are a blessing for many children and a healthy family, bamboo shoots represent longevity and so on.
I smiled and said as long as you are eating with me and there is delicious food on the table, I'm blessed with all of that and more. She gave me a peck on the cheeks and glowed cheerfully.
To add on to our feisty mood, I printed out certain words which Chinese people decorate by hanging them all around their homes and shops. The most common word is 'Fu' which means happiness and good fortune written in calligraphy onto a square piece of red paper. Also, 'Yu' which means extra.
I also got some lanterns and decorated our drinking lounge. This year is of the pig as per the Chinese Zodiac. In Chinese culture pigs are symbol of fortune. So, I printed out some pig symbols and hanged them all around to give my house the authentic look for the festival celebrations.
Before the Groundhog comes out after his shadow and announces the onset of Spring, let us enjoy the closing winter season with yet another rocking rendezvous with friends. I can't wait to see a smile on the face of my friend Adrian.
Keep your loved ones warm with special greetings this season.
Enjoy the reasons of celebration every day.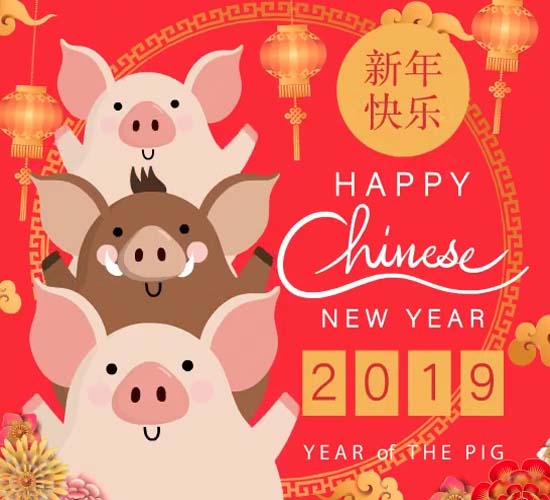 Groundhog Day
February 2, 2019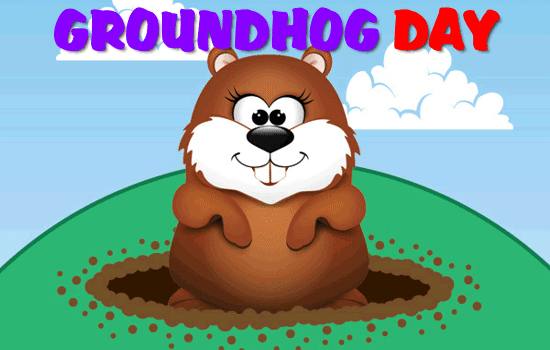 Intl. Friendship Week
February 17-23, 2019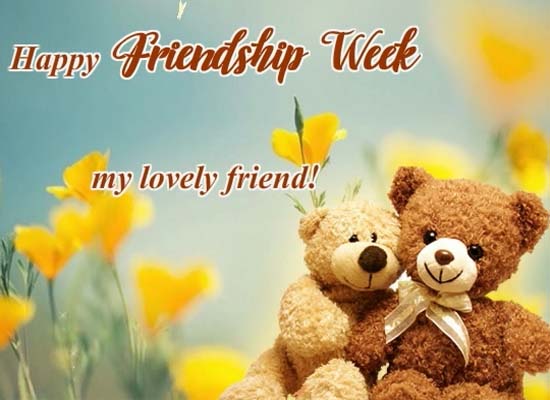 Chocolate Cake Day
January 27, 2019